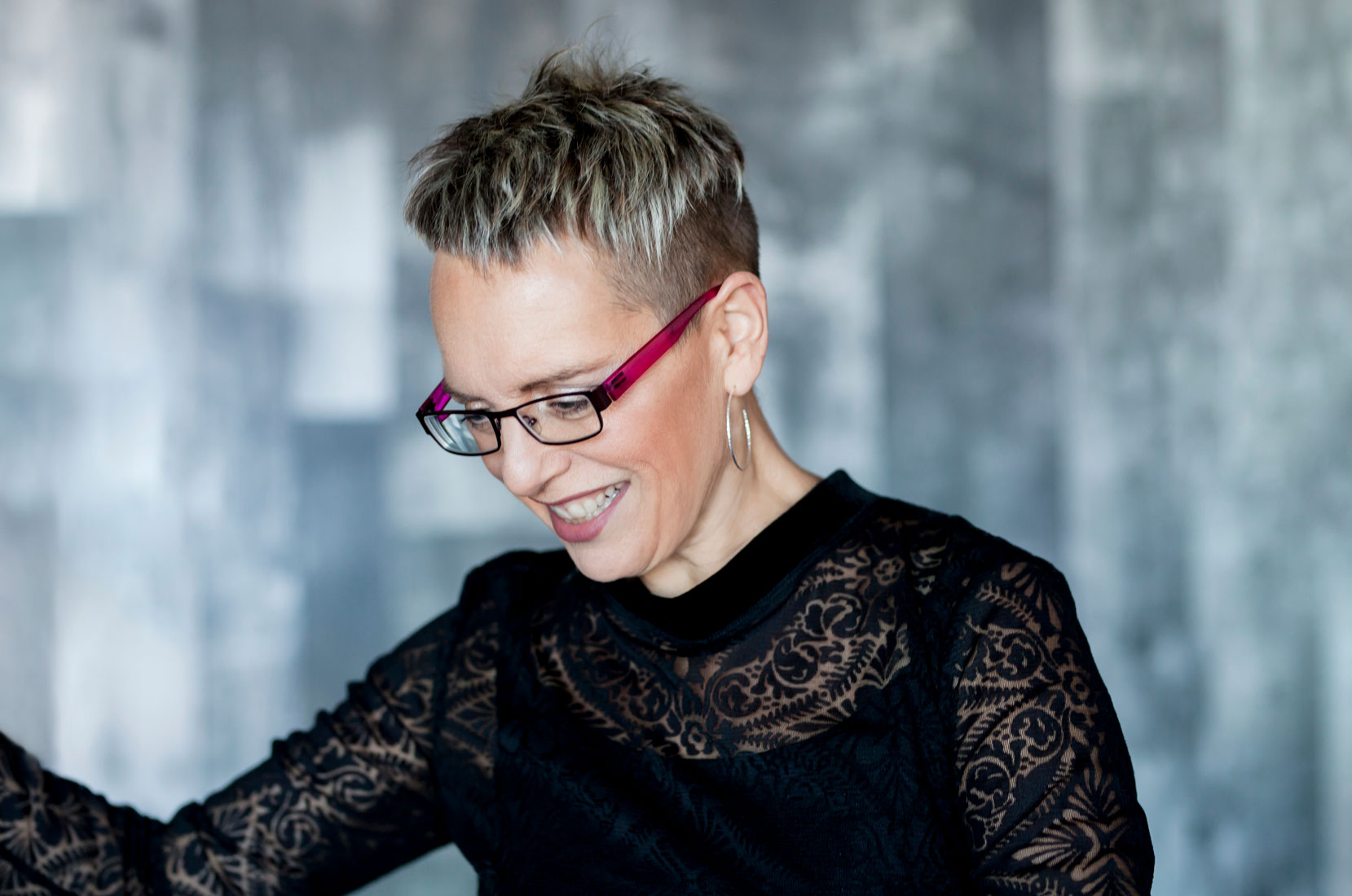 PROFESSIONAL ALTO SINGER
At the age where most people begin choosing a professional career, singing chose me. Armed with curiosity and determination, I began exploring a wide variety of repertoires, meeting other artists along the way with whom I could fulfill my passion for music. Now I get my kicks doing my favourite thing in the whole world: SINGING!
Range: Alto / mezzo (low E to high G, 2 ½ octaves)
Styles: Classical, early music, pop, jazz, improvisation, world beat, etc.
BIO
Josée Lalonde moves from one musical style to another with astonishing ease, as demonstrated by her richly contrasted artistic experience.
She has appeared as soloist with several renowned classical ensembles such as : Studio de musique ancienne de Montréal, Viva Voce, Les Idées Heureuses, Ensemble Caprice, Constantinople, Theatre of early music, Masques, Les Voix Baroques, Ottawa Bach Choir, Tafelmusik Chamber Choir, Toronto Consort. Ensemble Telemann, OSM and her work as chorister with OSM, Opéra de Montréal, and Les Violons du Roy (Chapelle de Québec) further attest to her love of many different styles of music.
She has participated in several World Beat concerts with Karen Young, with whom she also recorded the albums Canticum Canticorum (2000) and Âme, corps et désir (2007). In addition, she has lent her voice to the movie soundtracks of "La nuit du deluge" (Gaëtan Gravel/Serge Laforest, 1996), and "Revoir Julie" (music by Karen Young, 1998), as well as the TV comedy "Les hauts et les bas de Sophie Paquin" (2007). Since 2012, the Young-Lalonde-Sidorov Trio has impressed the public with its originality and sensitive interpretations derived from various sources.
Other examples of her wide-ranging skills include several projects with Cirque du Soleil (Kâ, Corteo, Zed), Cirque Éloize (Nebbia) and Cirque Knie (Fascination), as well as a solo role in the Montréal production of Howard Shore's The Lord of the Rings(2004). Josée Lalonde's artistic journey regularly takes her from early music all the way to contemporary works. Throughout it all, certain constants remain: talent, passion, boldness, and versatility…
REVIEWS
«…L'ensemble (Studio de musique ancienne de Montréal) faite preuve de justesse, avec des altos solides (Josée Lalonde, Nicholas Burns)….»
Le Devoir (Christophe Huss) October 2018
«…The Requiem itself was superbly performed, with Josée Lalonde doing the mezzo solos. She sounded absolutely incredible. They were singing from the orchestra pit, and I was wondering how well solo voices would carry from down there. They carried just fine! At the end, the soloists came up on stage, and it was great to see her there. She deserved every ovation she got….»
February 2018
«… Their voices (Josée Lalonde and Émilie Laforest) are soft and dreamy and filled with haunting harmonies. Although the words are in French and printed in the liner notes, it is the sound of both voices that is most enchanting….»
Downntown Music Gallery (New York) (Bruce Lee Gallanter), January 2011, CD Bréviaire d'épuisements
«…Josée Lalonde a interprété l'aria de la BWV 182 avec chaleur et assurance. Jamais n'a-t-on senti qu'elle s'efforçait de rendre cette pièce du répertoire ancien sans vibrato; tout était naturel. La flûte traversière de Mika Putterman laissait échapper un doux obbligato syncopé. La voix se mêlait au son de la flûte dans un effet d'amplitude, et non d'infini…»
The Gazette (Arthur Kaptainis), April 2009, Concert Viva Voce
«…Il faut ajouter à cela les voix splendides de l'alto Josée Lalonde et du haute-contre Dan Cabena qui ne passent pas inaperçues…»
quebecinfomusique.com (René d'Antoine), May 2008, concert "Âme, corps et désir" of Karen Young at l'Anglicane
«…Taylor invite Marie-Claude Arpin, Josée Lalonde, Michel Léonard et Normand Richard, du Studio de musique ancienne de Montréal, à diriger les sections (Theatre of Early Music). Ce sont les meilleurs choristes et choristes solos de la ville. Les étudiants apprennent beaucoup à leur contact…»
La scena Musicale (Daniel Taylor), November 2008
«…Quatre extraits de la Messe de Nostre Dame de Guilaume de Machaut, dans une version très dépouillée pour quatre voix (Kami Logfren Josée Lalonde, Michiel Schrey, Normand Richard) sans accompagnement furent l'un des sommets du concert…»
La Presse (Claude Gingras), April 2008, Concert SMAM/SMCQ "Hommage à Vivier"
«…le petit quatuor vocal (Marie Magistry, Josée Lalonde, Michiel Schrey, Normand Richard) fut exemplaire…»
La Presse (Claude Gingras), January 2008, Concert de l'ensemble Caprice et Quatuor Bozzini "Différents trains"
«… Avec la même assurance, Josée Lalonde projeta le son grave d'une authentique contralto…»
La Presse (Claude Gingras), June 2007, Concert de l'ensemble Caprice "Vivaldi et ses anges"
«…Josée Lalonde, chanteuse de madrigaux remarquable, c'est une voix!…»
Samedi et rien d'autre (Edgar Fruitier), May 2007, CD "Âme, corps et désir" de Karen Young
« …et j'avais tant aimé travailler avec l'alto Josée Lalonde… »
La Presse (Karen Young/Alain Brunet), May 2007, CD "Âme, corps et désir" of Karen Young
«… Mention aussi aux solistes Josée Lalonde et…»
La Presse, April 2001, Concert du Studio de musique ancienne de Montréal
«… Quant à Josée Lalonde (la mère) elle fait preuve d'une autorité et d'une présence remarquable…»
Le soleil, October 2000, Concert «Cantique des Cantiques» of Karen Young
«… et de la solide Josée Lalonde. Solos remarquables, duos incandescents, superbes séquences chorales, tout un trip de voix»
La Presse, September 2000, Concert «Cantique des Cantiques» of Karen Young
«…soulignons l'apport exceptionnel de Josée Lalonde…»
Le Soleil, June 2000, CD «Cantique des Cantiques» of Karen Young